VIBCO DC-500
View technical information

VIBCO's New and Improved Bulldog DC-500 Concrete Pump Vibrator is R-R-R-R-Rough!

The VIBCO Bulldog DC-500 Concrete Pump Vibrator is the most affordable, most effective way to ensure that concrete transfers directly from the truck to your concrete pump without clogging or spilling.



How many times have you stopped loading your pump because the grill was clogged with concrete buildup? Are you loading your pump with dumpers, wheelbarrows and shovels because you can't trust the concrete to flow smoothly through the grill? How much time, money and labor are you wasting?

VIBCO's Bulldog DC-500 Concrete Pump Vibrator eliminates all of those problems and gives you what you want - fast, efficient, clean, and trouble-free pump loading. And because VIBCO's DC-500 costs about half as much as our competitors' models, your investment will start paying dividends in no time!


VIBRATE LIKE
A BIG DOG!
with
VIBCO CONCRETE PUMP VIBRATORS
VIBCO Concrete Pump Vibrators vibrate your grill and get your concrete flowing!


VIBCO Knows Concrete Vibration

Did you know that VIBCO has been manufacturing vibrators for the concrete industry since 1962? We have decades of experience and engineering expertise to share with you so you can make your business more profitable.

Whether you're pouring foundations, casting walls, or building bridges, VIBCO has the knowledge and experience to ensure that your finished product is strong, beautiful, and exceeds your customers' expectations of quality.

Do you have a question about concrete vibration for your pump, for your mobile mixer truck, for your forms, for your screed? Just ask one of our engineers! Or you can always refer to VIBCO's useful Concrete Handbooks.
Contact VIBCO TODAY!
Contact VIBCO today to speak with an application engineer!
Call 800-633-0032 or email vibrators@vibco.com
Learn more about how vibration can be used to solve your material flow problems. Check out the VIBCO Vibration Nation Blog or view our complete Product Application Bulletin Library featuring over 90 VIBCO field applications, including actual photos from our customers.
VIBCO Vibrators for Any Concrete Application
Concrete Form Vibrators

VIBCO makes vibrators for all types of concrete forms - from huge concrete walls and columns, to cast-in-place bridge forms, to bird baths and statuary - VIBCO has a vibrator and mounting system that will ensure a perfect finish.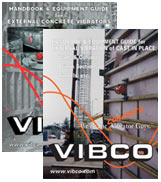 Download the Concrete Handbook
Order Printed Copies of Our Concrete Catalogs
Specialty Pre-Cast Form Vibrators
VIBCO makes specialty vibrators for burial vault and septic tank concrete forms.
Download selected pages from our Concrete Catalogs
Concrete Truck Vibrators
Concrete chute vibrators get even low slump moving down the chute without raking and let your pour at lower angles on any terrain. Use a vibrator on your charge hopper to make truck loading more efficient. VIBCO Concrete Truck Vibrators help you to pour more loads per day with less waiting and down time.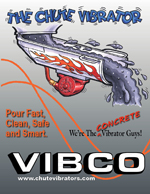 Download the VIBCO Chute Vibrator Catalog
Order printed copies of the Chute Vibrator Catalog